Lovers of Car sports cars have a new reason to rejoice with the reveal of the Heritage Edition 2024 of the Audi RS7 Sportback ABT Legacy Edition 1000 (C8) by ABT Sportsline. This road beast is quite simply the most powerful car the brand has ever created, with a supercharged 8 biturbo hybrid V4.0 engine that develops an impressive 1000 horsepower and a massive 1150 Nm of torque.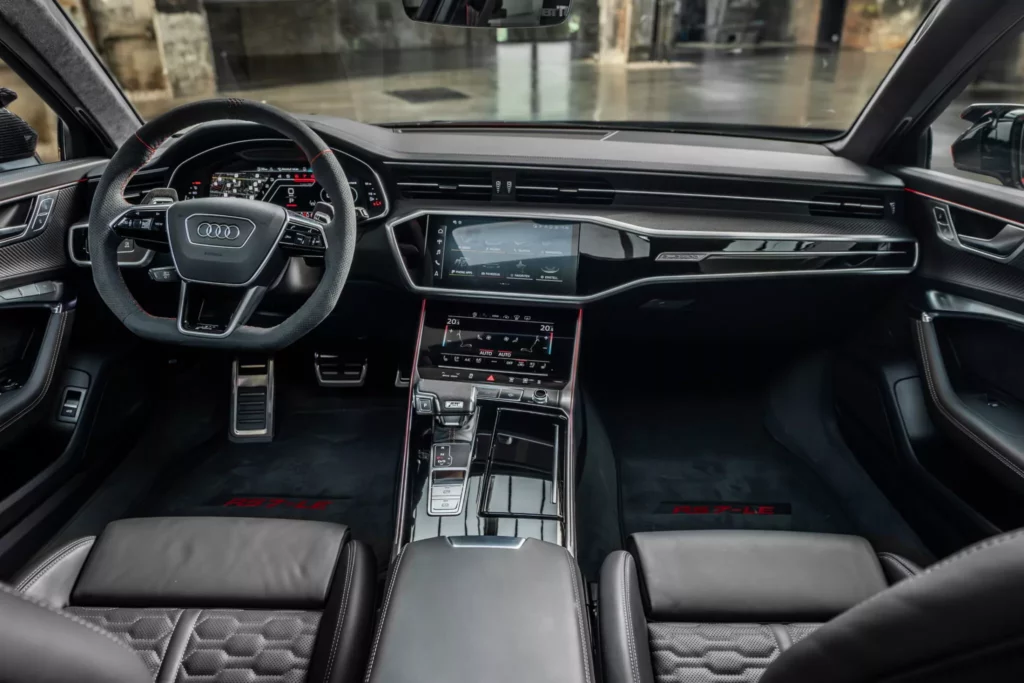 Gross power of the Audi RS7 Sportback ABT Legacy Edition
At the heart of this powerful machine is a 8 V4.0 bi-urbo hybrid engine, which has undergone a series of cutting-edge modifications to achieve astonishing levels of performance. With 1000 horsepower under the hood, this Audi RS7 is capable of going from 0 to 100 km/h in just 2,7 to 2,8 seconds, and it can reach an impressive top speed of 330 km/h. If that's not enough, it can reach 300 km/h in less than 22 seconds, propelling you to breakneck speeds in no time.
High tech for an extraordinary Audi RS7
To achieve these levels of power and performance, ABT Sportsline has incorporated a range of cutting-edge technologies into this RS7. Some of the notable features include an indirect water/ethanol injection (IWI) system to cool the engine, a carbon intake system with enlarged turbocharger air intakes and optimized turbochargers, forged pistons with reduction compression, reinforced connecting rods and piston pins, as well as a sports catalytic converter with gasoline particulate filter. Additionally, additional oil coolers have been added to ensure the engine performs optimally even in the most demanding conditions.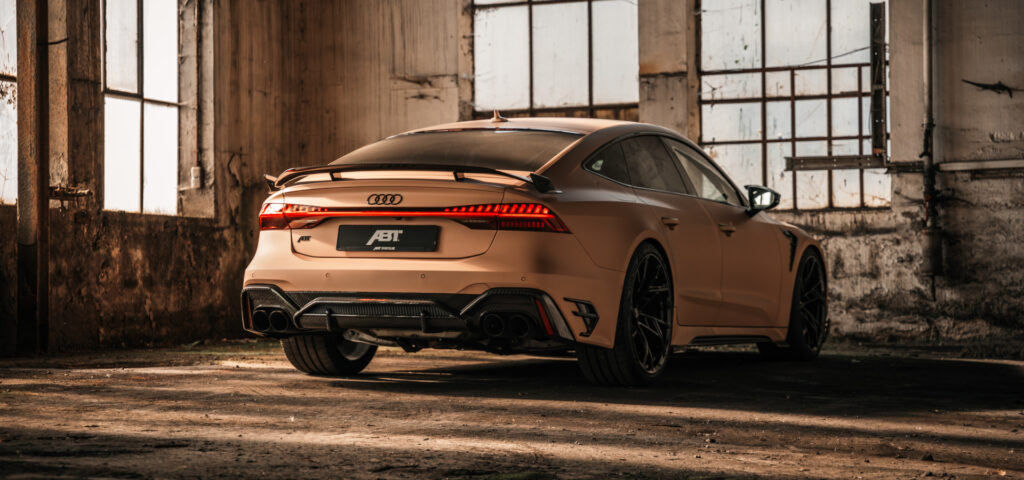 An aerodynamic and aggressive design
The Audi RS7 Sportback ABT Legacy Edition 1000 isn't just about raw power on wheels. It also comes with an impressive aerodynamic kit that not only adds to its appearance but also improves its performance. Kit includes front lip with RS7-LE 1000 logo including glossy carbon front blades, glossy carbon front skirt inserts with optimized airflow, glossy carbon front grille, carbon hood insert brilliant, and much more. These aerodynamic elements help improve the stability and handling of the car, in addition to giving it a decidedly sporty appearance.
Premium suspension and wheels
To improve its handling, ABT has equipped this RS7 with height-adjustable suspension and anti-roll bars. These features allow drivers to personalize their driving experience based on their preferences. Additionally, the car sits on 22-inch IR22 forged wheels with black gloss finish, fitted with Goodyear Eagle F1 Supersport 295/30 ZR22 tires providing better grip on the road. Everything is accompanied by a tire pressure monitoring system (TPMS) to ensure maximum safety at all times.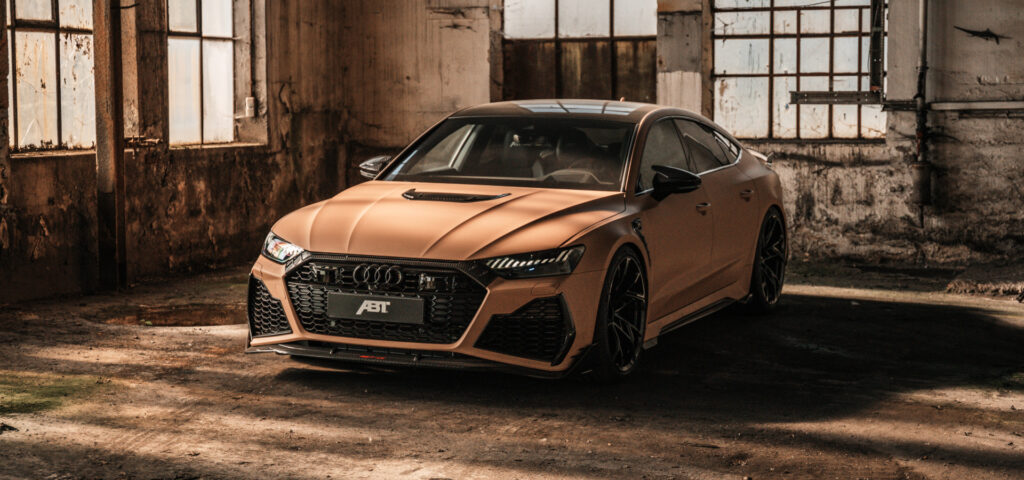 A touch of elegance in matte sand beige
The exterior of this Audi RS7 is finished in an elegant shade of matte sand beige, which contrasts beautifully with the glossy carbon elements of the aerodynamic kit. This color combination gives the car a unique presence on the road.
Made in Germany
All of this cutting-edge engineering work takes place at the ABT Sportsline facility in Füssen, Germany. There, a highly skilled team works with unwavering passion to create world-class performance vehicles, and this Audi RS7 Sportback ABT Legacy Edition 1000 is a shining example.
An exclusive edition
The 7 Audi RS1000 Sportback ABT Legacy Edition 2024 is a feat of engineering cars German quality. This limited edition will be produced in only 200 copies, making it a highly sought-after collector's item. With its special configuration and exceptional performance, it is a gem of automotive technology not to be missed.