If you're looking to downsize, live more intentionally, reduce your environmental footprint, and enjoy the freedom to move around whenever you want, tiny homes are the perfect solution. Let's dive into the splendid and captivating world of compact living by exploring the latest design from Movable Roots: the Jojo Bean Tiny House on Wheels which measures 24 feet (7,3 meters) long.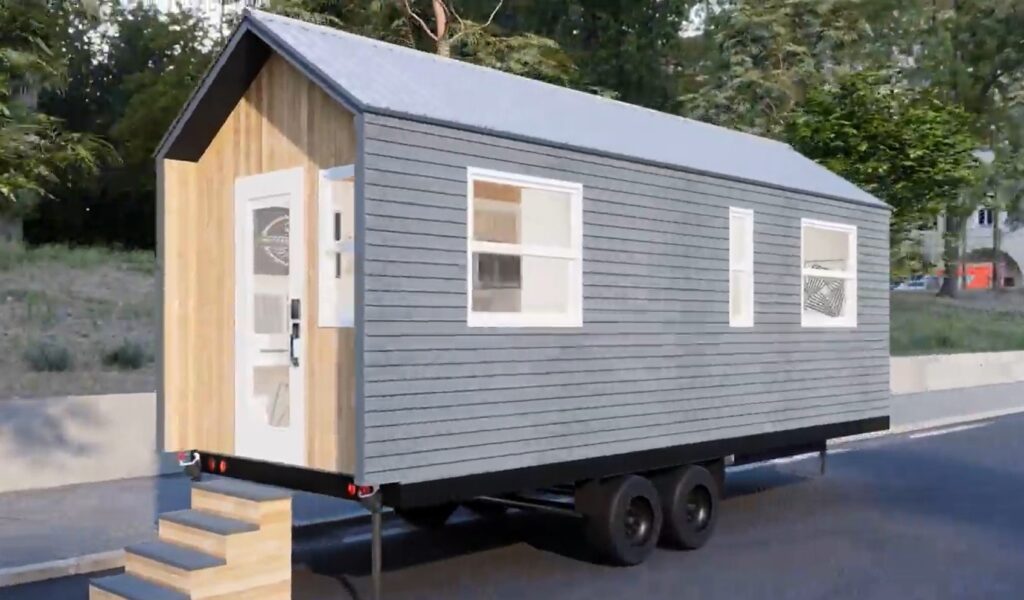 A functional and elegant design
The Jojo Bean mobile home series isn't new, but it's the most popular design from the Melbourne, US-based tiny home builder. Movable Roots has just unveiled renders of a new unit that will be completed next month. Known for creating beautiful mobile homes with clever layouts and loads of features, the team at Movable Roots don't disappoint this time around either.
The renders feature a stunning single-tier design that perfectly balances functionality and style. It manages to include all the necessary amenities for a comfortable and stress-free life in a compact and mobile home.
Designed for high quality living
This tiny house on wheels is built for a high standard of living, proving that functionality, comfort and elegance can be skillfully and effortlessly integrated into a smaller living space that offers the flexibility to move around when needed. .
Due to its design versatile, this tiny house could meet the needs of one person or a couple looking to travel the world from the comfort of their own home. It could also be used as an Airbnb rental, a weekend family retreat, a guest house in your garden or even as an office space.
A thoughtful layout.
A cozy living room, functional kitchen, bathroom, and downstairs bedroom are all integrated into the small footprint of this 204 square foot (19 square meter) home. The layout is similar to the original Jojo Bean, but the extra length of the house allows for a more spacious bedroom, closer to what you find in conventional houses. The original Jojo Bean is actually the smallest house built by Movable Roots, measuring just 20 feet (6 meters) long.
Sleek and modern exterior
The exterior of this upgraded version is sleek and modern, with painted LP SmartSide cladding and a metal roof with a steep gable profile. The bright fiberglass front door sits at the back of the house, providing direct access to the living room.
A modern and functional interior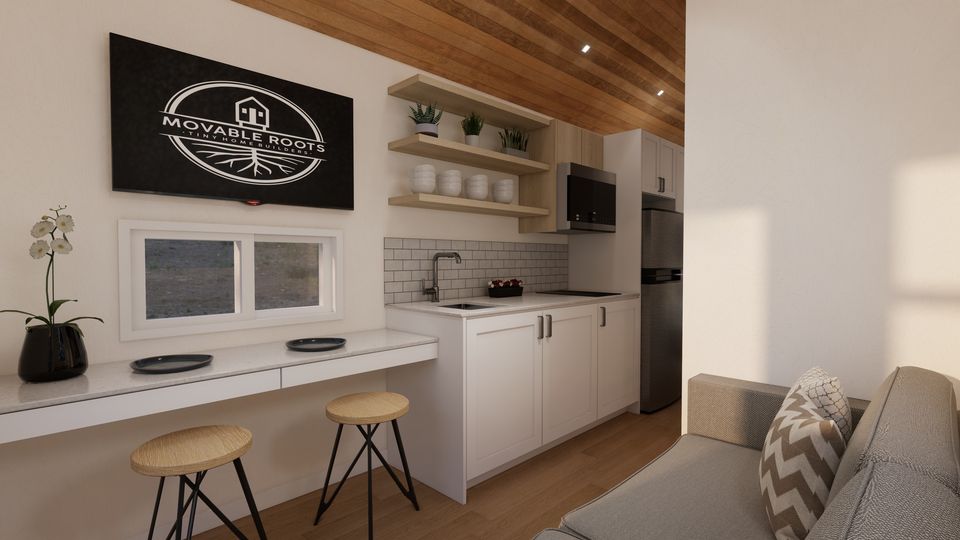 The interior also exudes a modern vibe, emphasizing simplicity and minimalism with a high degree of functionality. It is dominated by clean lines, natural materials and a neutral color palette that combine to create a warm and welcoming atmosphere.
A comfortable living space.
The living room is the first room in the house and is spacious enough to accommodate a large comfortable sofa. There is also room to mount a large TV on the opposite wall, making the space perfect for movie nights. A breakfast bar is located across from the sofa and serves a dual purpose as it can also be used as a workspace for those working from home. Windows on both sides ensure that the space is flooded with natural light.
A functional kitchen
As with most tiny homes, the kitchen is central to the design and is well equipped to allow owners to cook their favorite meals wherever they are. There are custom frameless cabinets with plenty of storage space, as well as open shelving on the wall to store kitchen essentials. Functionality is ensured by a hob electric with two burners, a convection oven, a sink and a large refrigerator. Quartz countertops and classic subway tile backsplash connect the lower and upper cabinets.
A modest bathroom.
The bathroom of this small house is located in front of the kitchen. It is small and modest but includes all the basic necessities, including a tiled shower, a toilet and a small sink.
A spacious bedroom
As mentioned, the new Jojo Bean unit is designed to operate on one level, so it includes a rear bedroom and eliminates stairs, ladders or cramped lofts, making it ideal for seniors who prefer to avoid to climb ladders or crawl into bed. The sleeping area has impressively high ceilings that draw the eye and create the illusion of more space. It is fitted with a queen-size bed offering plenty of room to move around.
A house for all seasons
Designed as a premium build, the Jojo Bean Tiny House features closed-cell spray foam insulation, double-glazed insulated windows and a durable metal roof, making it suitable for all-day living. year round, whatever the weather conditions.
In short
Characterized by simplicity but offering many features per square meter, this home design proves that all you need to live a happy life is an efficient and smartly designed home. Jojo Bean from Movable Roots is not just a mobile compact house; it is an invitation to embrace a lifestyle that opens up new opportunities for creativity, flexibility and warmth. The improved version of Jojo Bean is available for sale at 95 euros.