Most people don't have a quarter of a million dollars in their bank account to spend on a mobile home or RV. But that doesn't stop us from dreaming of one day owning our own Fortis RV. Get ready to discover the new range of Fleetwood motorhomes!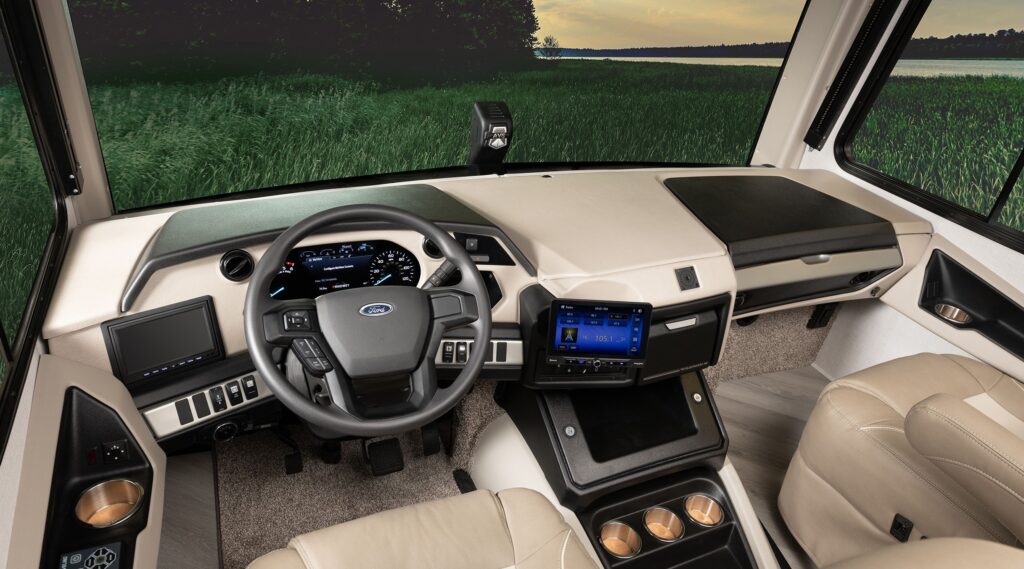 What is Fortis RV?
Hello my friends ! The machine you see in the photos is called Fortis. It is manufactured by Fleetwood RV. You may have heard of them before, as we've talked about their awesome campervans many times. But this is the version 2024, so let's see what this crew has in store for us this time.
Built for the long term
If you visit the manufacturer's website, you'll see that Fleetwood likes to call this camper "built for the long haul." This means they wanted to create a reliable unit that will take you wherever you want to go and do it in maximum comfort. Sounds pretty cool, right?
Let's take a look inside
If you're curious to see what this new line is all about, then sit back and let me take you on a little journey through your imagination. Now, if you're one of the lucky few with a quarter of a million dollars – $224 for the cheapest floor plan, the 786RW – just waiting to be spent, then you don't have to. you don't even need to dream. If Fortis is right for you, you know what to do!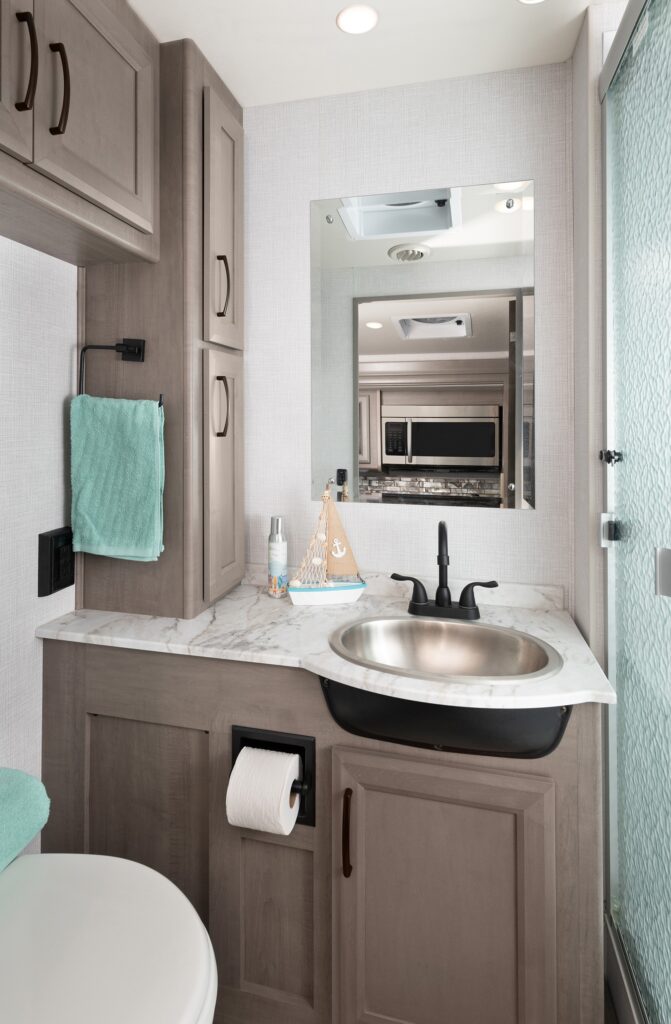 Imagine owning a Fortis RV
Imagine owning this incredible campervan. It could be parked in your driveway or even at the dealership. No matter where you see it for the first time, you will be impressed. Once you've got that figured out, grab your clothes, adventure gear, outdoor cooking utensils, tools, and maybe even a washing machine, and get inside. Give your partner your enthusiastic smile and start your Fortis.
On the road with the Fortis
As you drive, a chassis Ford F-53 will handle whatever the road throws at you, and the power you need will come from a V8 engine of 7,3 liters developing 335 horsepower and 468 lb-ft of torque. A 6-speed TorqShift automatic transmission with all the gears you need ensures optimal power and fuel mileage from the 80-gallon fuel tank.
Arrive at your destination
As the road expands, you continue your journey and arrive at your destination with a few hours of sunlight remaining in the day. You have plenty of time to prepare for your first sunset road experience.
Living outdoors with Fortis
At this point, you'll want to roll out the countless slideouts that the four Fortis floor plans offer, set up that outdoor dining and lounging space, and maybe even pitch a tent or two outside. 'outdoors if you want to spend the night under a clear sky and teach the children all about the stars. Talk about timeless human activities!
Cooking and enjoying the sunset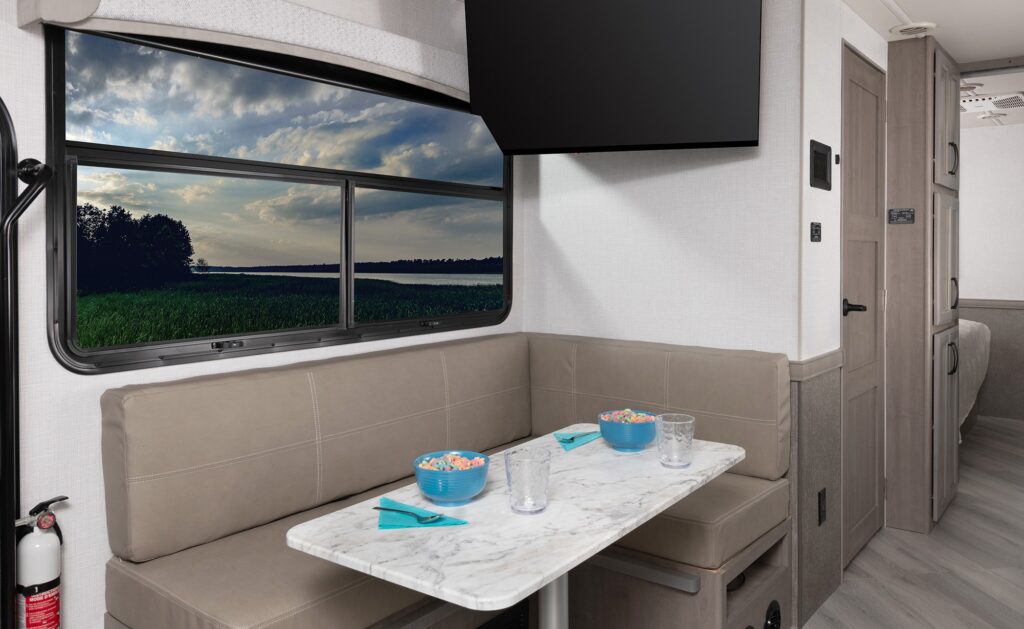 Once everything is set up, it's time to prepare a quick meal to enjoy during the event. Depending on the floor plan you choose, you can either cook inside your Fortis or, as with the 36Y, use the outdoor kitchenette. This is the floor plan for me, my friends!
Magical moments with your loved ones
Some time later, the sun begins to end its day. All the while, you and your family sit in lawn chairs and enjoy the show as if you were in an IMAX theater. You look at your partner and that smile appears on your face again. They smile back, just as awkward, and you both burst out laughing.
Fun times with children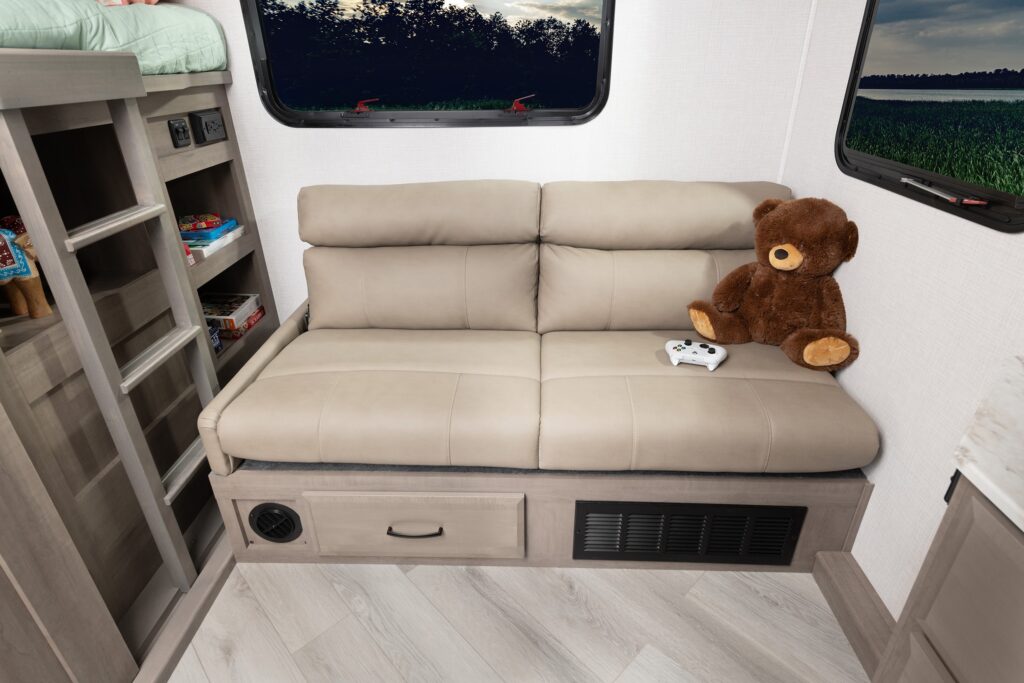 Suddenly you look around and realize the children are missing. But just as you start to panic, you see them lying on the roof of your Fortis, enjoying the show. You nudge your Mr. or Mrs. and direct their attention to the children. "Aww! »
A night of stories and S'mores
Once the sun finishes its daily show, night finds you with a fire casting a golden glow over your Fortis, and the shadows begin to tell their stories, fueled by your own tales of past and future adventures. Anyone up for some S'mores?
A good night's sleep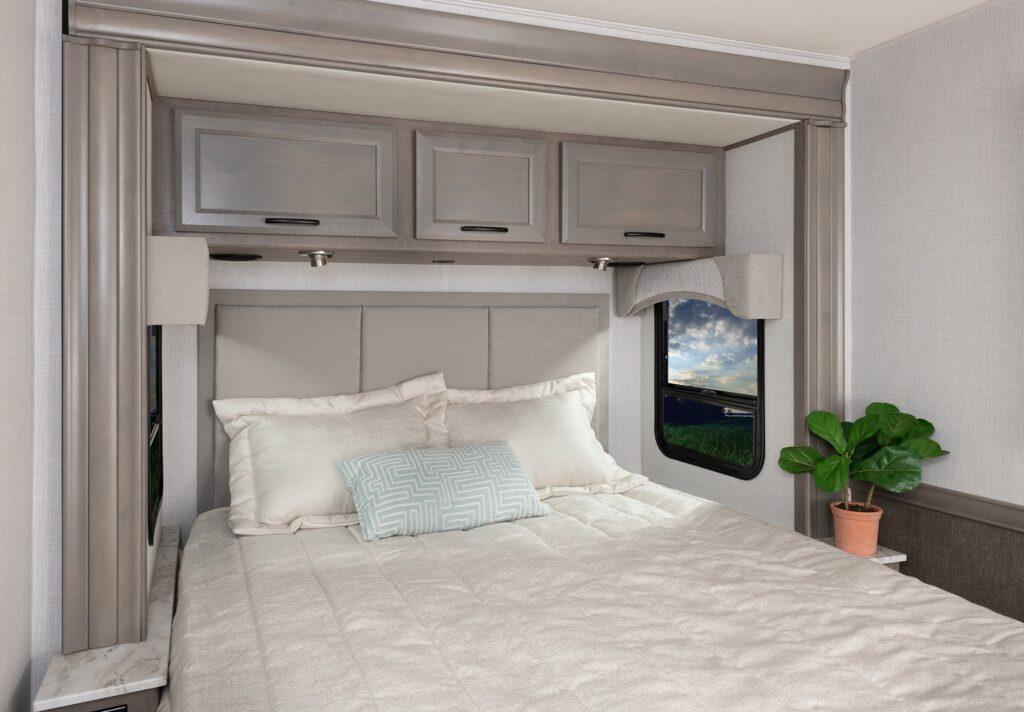 It's late now and it's time to go to bed. This is where I was blown away by what Fleetwood RV has achieved with the Fortis. As I explored the floor plans, I could see at least four sleeping areas that could accommodate up to eight people. This is made possible by jackknife sofas, convertible dinette, bunk beds, king-size mattresses for homeowners and even bunk beds for children.
The Kid Kave
One unit, the 36Y, introduces a new feature to the line called Kid Kave, a cool idea that relates to your kids. Think of it as a Man Cave but for kids. It's a sturdy space to contain all the chaos and mess kids can leave behind. Little ones even have their own bathroom, entertainment center, bunk beds and a convertible sofa in this space.
In short
Honestly, I don't have much else to say about the Fortis line. I think it's pretty incredible. But if you need a little more convincing to choose one of these beauties, contact Fleetwood RV, and they will happily talk for hours about everything Fortis has to offer and how it can change your life.