Where a love of fine art and bespoke luxury items meets a love of the automobile, a desire to celebrate romance, and a seemingly limitless budget, are born rolling bodywork works of art like the Rolls-Royce Drop tail. This is La Rose Noire, the latest Rolls-Royce Coachbuild.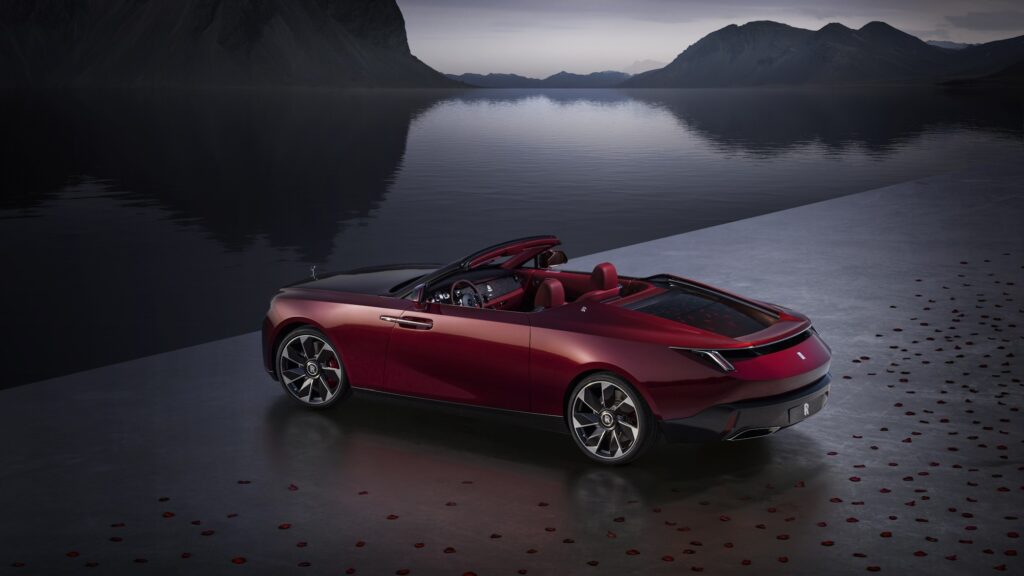 August 19 2023 marks the launch of the 4-unit limited series of the Droptail, La Rose Noire being the first unit on display.
The Black Rose made its limited-edition debut when it was introduced to new owners at a private event during Monterey Car Week in Pebble Beach, California. It is the culmination of four years of hard work by the Rolls-Royce team, working closely with both owners to ensure that it becomes a reflection of their passions, their love for each other. , art, automobile and champagne.
At the same time, it has become a work of art in itself and a testament to Rolls-Royce's designers and craftsmen.
The Rose Noire is a roadster with a two-seat configuration that is a first in modern Rolls-Royce history, but with deep roots in the past, notably in 1920s hotrods and the lavish personality of a Great Gatsby type. . It is simultaneously dark, dramatic, romantic and impressive.
The name comes from the velvety Black Baccara Rose hybrid originating in France, whose Droptail tries to replicate the softness and color inside and out. In bad weather, the roadster transforms into a coupé thanks to a removable hardtop.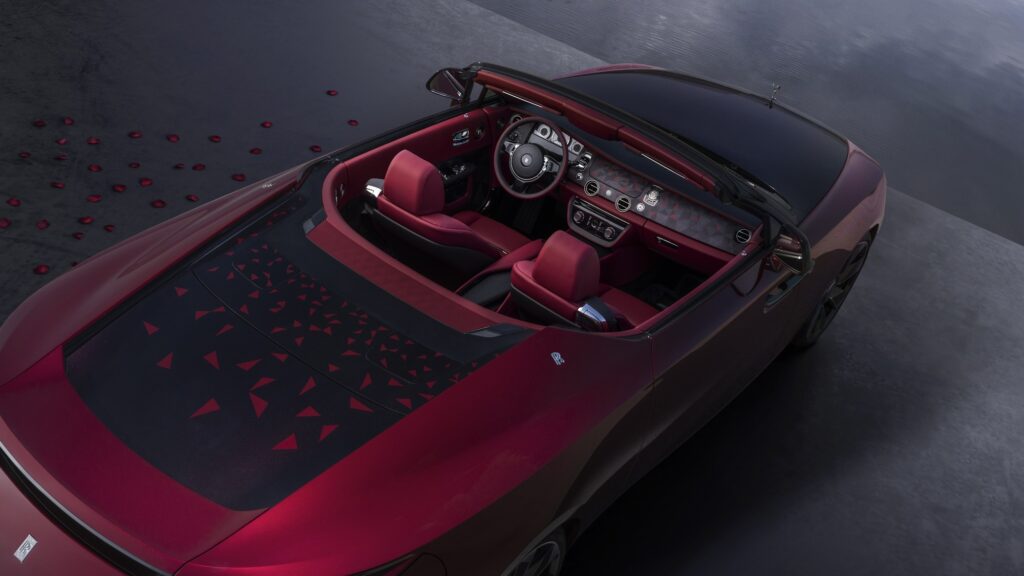 Wood, leather and paint for a non-literal and motorized interpretation of a rose
The commissioning couple had very specific requirements for their new car – like when you pay £25m ($31,8m) for a ride. They wanted it to be a tribute to their undying love but also a reflection of their passion for art, luxury champagne and horological excellence, and they wanted it all wrapped up in a "package" that evokes comparisons. with the beautiful Black. Baccarat Rose.
It was a tough challenge, but Rolls-Royce pulled it off with this first Droptail. The exterior bodywork is painted a special shade of red called True Love, which took over 150 iterations to perfect, as it is able to capture the changing colors of Baccara's black rose. This rose hybrid appears like a dark pomegranate from a distance, but it translates to a rich red with pearlescent shimmer in direct light.
A special Hydroshade dark finish is used for the Pantheon grille to add the "black" feature of the vehicle. The 22-inch alloy wheels are finished in a Mystery paint that appears black at a more casual look but features shimmering dark red undertones at closer inspection.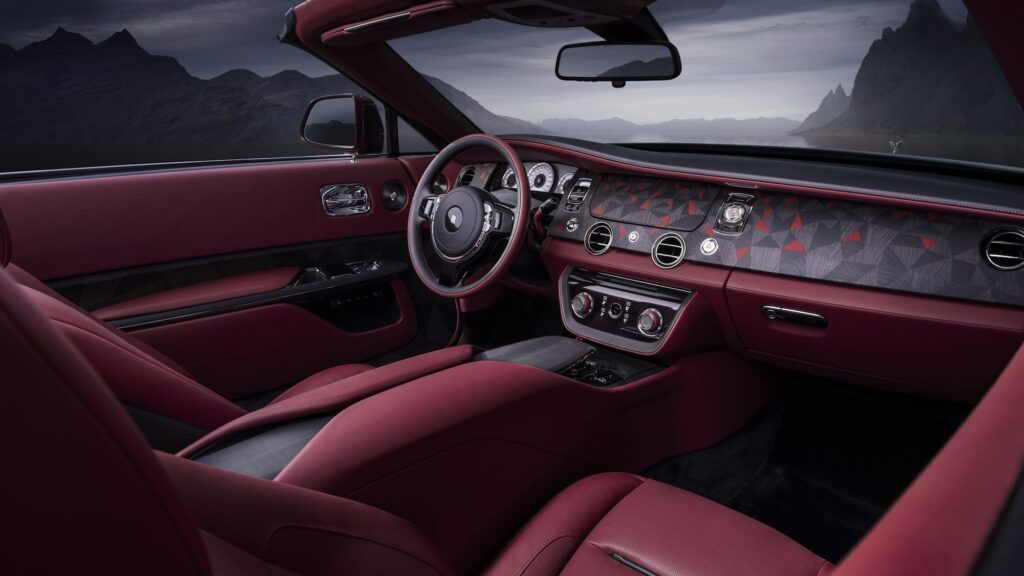 As special as La Rose Noire may seem from the outside, it is even more breathtaking on the inside, where the cocoon-like interior is rendered exclusively in leather, wood and carbon fiber. A wrap-around parquetry that stretches from the back of the seats to the dashboard is the most elaborate piece Rolls-Royce has ever designed. This is an abstract rose design created from 1 pieces of black sycamore veneer, 603 of which are painted red to symbolize scattered rose petals.
This piece alone required two years of development and nine full months of craftsmanship, during which the sole craftsman working on it worked in one-hour work sessions, for up to five hours a day in one piece. soundproofed, allowing maximum concentration. Only the "petal" pieces are painted, the others have tonal variety thanks to their natural color.
The seats are leather in Mystery Deep Red and True Love Lighter Red colors, with a subtle copper sheen to evoke the pearlescent shimmer of rose petals. A cantilevered armrest covers the infotainment controller and creates a sleeker, almost minimalist, yet very luxurious and decadent interior.
Even more personal touches
There isn't a single jewel in this Droptail's crown: the Droptail itself is meant to be that. But the Audemars Piguet timepiece embedded in the dashboard comes very close. This is actually an AP Royal Oak wearable watch Concept which doubles as a dashboard clock and portable piece and was a special request from the male owner. As such, this is also a fully custom piece.
The 43mm Royal Oak Concept Split-Seconds Chronograph GMT Large Date features a Caliber 4407 self-winding movement with a flyback chronograph and split-seconds mechanism. The watch is color matched to the Droptail, with a red inner bezel and red subdials, and a black dial.
When removed from the dash and placed on the matching strap (otherwise held in a leather pouch inside a special compartment), the dash opening is covered with an openwork blank head with a rose engraving – also by Audemars Piguet and the only true interpretation of roses inside the cabin.
The second special request was for a matching Rolls-Royce champagne chest, which features the same scatter-petalled parquet flooring and contains an "intricate" champagne set, including a serving trailer, hand-blown crystal champagne flutes and two hammocks for as many bottles. of the special edition of the owners of Champagne de Lossy. Carbon fiber and aluminum champagne coolers, finished in the same Mystery shade, keep bottles at an ideal serving temperature.
Don't judge a rose by its petals
La Rose Noire strives for perfection in design and craftsmanship, but that doesn't mean performance takes a back seat. Power comes from a twin-turbocharged 12-litre V6,6 engine upgraded to deliver 593hp and 840Nm of torque and mated to an 8-speed automatic transmission with manual override.
The car has personality and a very strong presence, and not just because of its styling. It is 5,3 meters (208,6 inches) long and 2 meters (78,7 inches) wide and rolls on huge 22 inch wheels. Top speed is limited to 155 mph, while 0-100 km/h is reached in 5 seconds.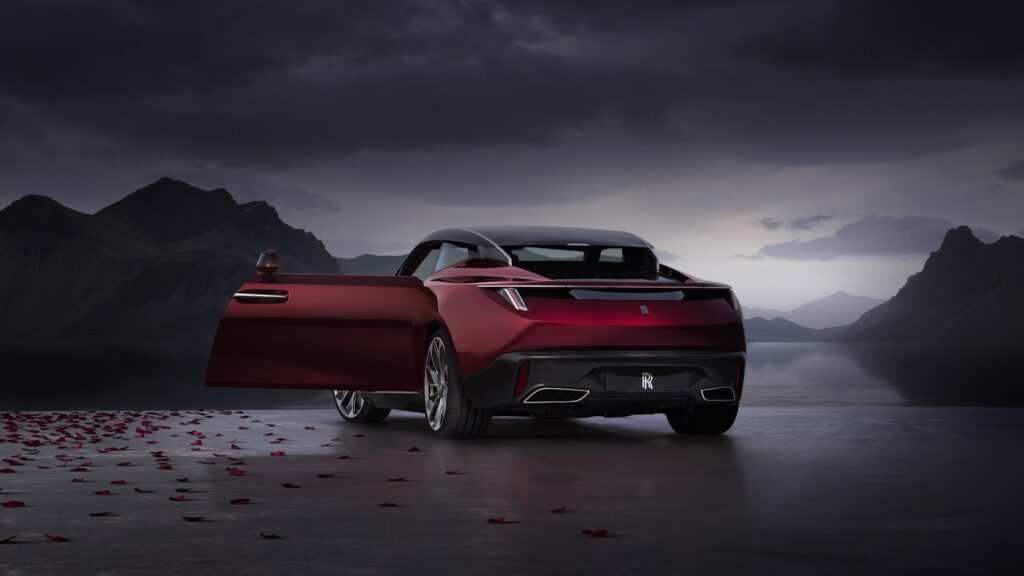 A Rose at 31,8 million dollars, but for whom?
This is a bespoke vehicle of the most luxurious type, so don't expect Rolls-Royce to brag about the cost of building it. That said, the price will become a talking point among many car enthusiasts, if only for the simple reason that this is the kind of car that only one percent of people could afford.
UK media say The Black Rose cost around $31,8 million, making it more expensive than previous Coachbuild releases – or any new vehicle, for that matter. This obviously raises another question: who would pay so much money for this?
The only clues available come from Rolls-Royce themselves: the owners are an "international" family linked to the automobile and the fashion world, with a particular love for a particular brand of champagne and a particular type of rose, and – obviously – the budget for such a special commission.
The names thrown up in conversations, based on these clues, aren't that many. One option would be billionaire Bernard Arnault, CEO of LVMH Moët Hennessy Louis Vuitton, and his wife Hélène Mercier. The other would be the French billionaire François Pinault, owner of the luxury group Kering, and his wife Maryvonne Pinault. The two couples are based in France and have been married for decades and count their francs in billions