Every once in a while, an innovative and crazy idea pops up and blows everyone away. Some of these concepts live on only as renderings, while others morph into the real world — just like this crazy bike rolling around with one of its wheels cut in half.
An original idea of ​​The Q
The idea comes from the talented tinkerer behind popular Youtube channel The Q. He posts all sorts of quirky experiments and creations on the platform, and most of them can be replicated at home.
In one of his latest videos, he shows the public how he transformed his bike into something unique. Of course, replacing wheels with all sorts of gear is nothing new. Over the years we have seen bikes with circular saws for the wheels and others with small legs instead of tires.
An explicit manufacturing process
The beginning of his clip begins with a short skit in which he demonstrates how his front wheel brakes as he climbs a curb. However, the funny thing is that he ends up replacing the rear wheel, which is undamaged.
The craft's manufacturing process is pretty self-explanatory. The handyman takes the wheel and coupe in half, then repeat the process with the tires to match each half. He then secures the two with additional pop rivets.
As you can imagine, to mount the two halves on the bike, he has to extend the frame. So he added three more tubes in the back to support one of the trench wheels.
An impressive result
The result looks crazy. But not only did he run the bike, he also tested it, deliberately riding the curbs to show that his design works.
Of course, the bicycle bricolage is not something practical because it takes up more space than a regular bicycle and it is probably not easy to handle. It's just a fun project that shows what some people can do when they put their mind to it. Of course, it can also be a cool invention to impress your friends.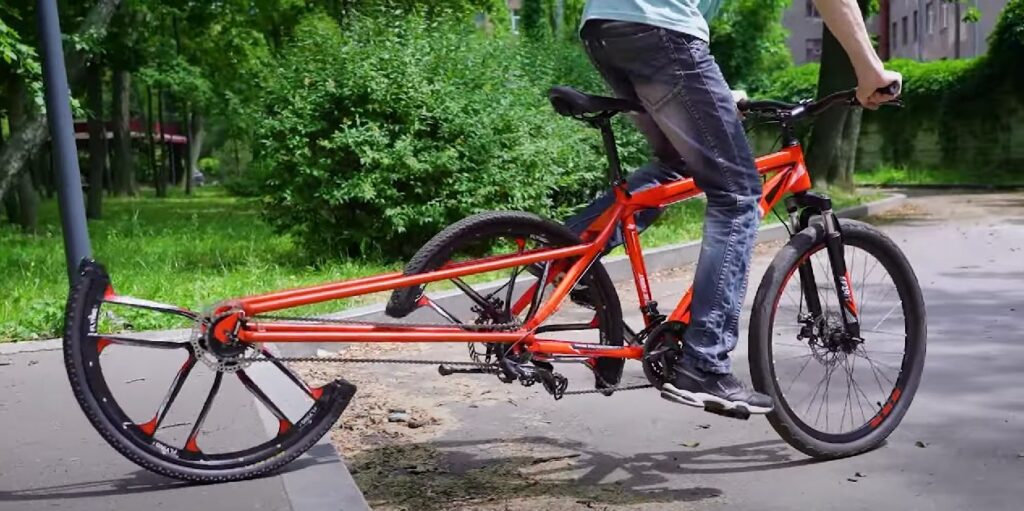 In short
In short, The Q has once again proven its DIY talent by creating a one-of-a-kind DIY bike. This original project is a great illustration of what imagination and skill can accomplish.